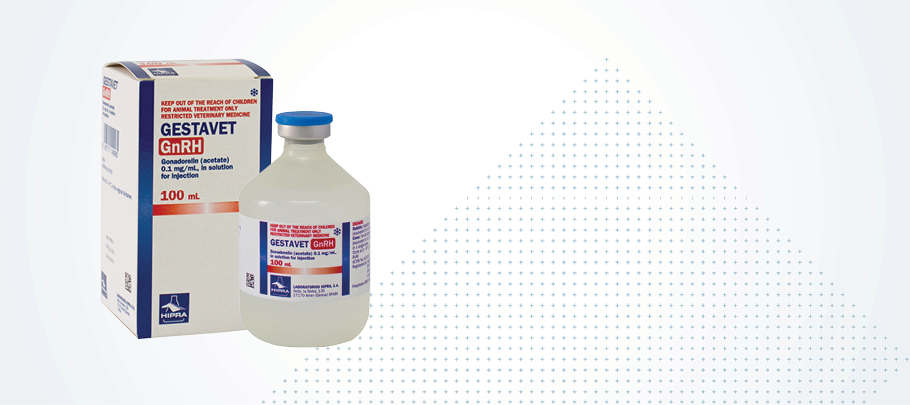 Gestavet GnRH
Reproductive hormone; Gondorelin (GnRH) in an injectable solution.
Description:
Reproductive hormone Gondorelin (GnRH) 0.1 mg/mL solution for injection.
Gonadorelin is the synthetic analogue of the gonadotropin-releasing hormone (GnRH) and acts by stimulating the synthesis of and release of Luteinising Hormone (LH) and Follicle Stimulating Hormone (FSH) from the anterior pituitary gland.
Packaging:
100 mL bottle (100 cow doses)
Indications:
Cows and Heifers:
Induction and Synchronization of ovulation
Reduction of the post-partum anovulatory period
Improvement of post-partum fertility
Treatment of ovarian cysts
Dosage for Dairy cows.
For all indications: 1mL of GESTAVET GnRH ( equivalent to 0.1 mg gonadorelin per animal) in a single dose.
Correct Administration:
Intramuscular injection.
Do not administer to dairy cows until 20-30 days post partum, because the ovary is not receptive.
Withholding period:
Cows Milk and Meat: Nil withholding.
Special instructions:
Store between 2- 8°C in the original container
The product has a shelf life of 28 days once the packaging has been opened.
Keep out of reach of children
RESTRICTED VETERINARY MEDICINE
Registered pursuant to the ACVM Act, 1997. No A10767
For more information on this product please visit www.hipra.com
Gestavet GnRH is available direct through your local vet.
For any questions please call your Agilis rep on 0800 agilis.