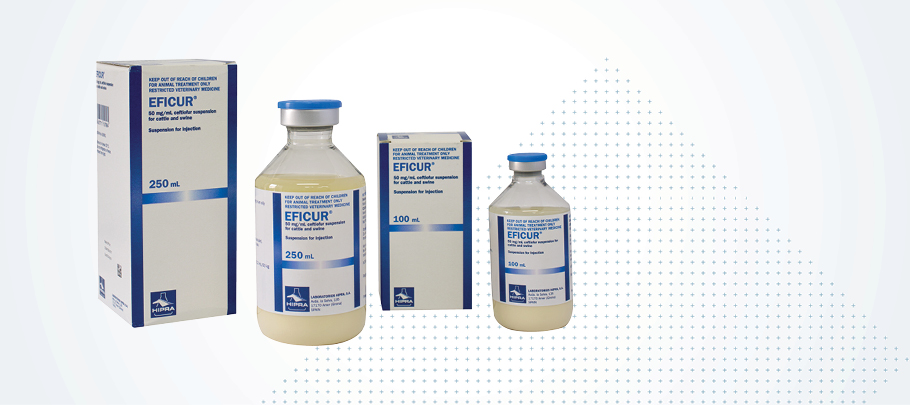 Eficur
Ceftiofur hydrochloride, a READY TO USE suspension for injection. For use in cattle and pigs.
Description:
Eficur is a syringeable Ceftiofur alternative, which is a white/ yellowish oily suspension. Each 1ml contains ceftiofur 50mg ( as ceftiofur hydrochloride)
Eficur can only be sold for use on animals with a prescription from your veterinarian.
Packaging:
Eficur is available in 100ml  bottles
Indications:
Infections associated with bacteria sensitive to ceftiofur.
Cattle: – Treatment of respiratory disease associated with Pasteurella ( Manmheimia) haemolytica, Pasteurella multocida and Histophilus somni
Treatment of acute interdigital necrobacillosis  ( foot rot)
Acute metritis ( 0-14 days after calving) associated with bacterial organisms susceptible to ceftiofur
Swine – Treatment of swine bacterial respiratory disease associated with Pasteurella multocida, Actinobacillus (Haemophilus) pleuropneumoniae, Salmonella choleraesuis, and Strepotcoccus suis type 2.
Dosage:
Cattle – Administer by IM or SC injection into the anterior half of the neck
Treatment of respiratory disease and foot rot: 1mg ceftiofur/kg bw (1ml Eficur per 50kg bw) every 24 hours for 3 days. If the cattle do not respond after the first 3 treatments additional treatments therefor should be given on day4 and 5.
Aute post – partum metritis , 2.2mg ceftiofur/kg bw ( 2.2ml Eficur per 50kg bw) daily for 5 consecutive days. Any subsequent injections must be given at different sites.
Swine – 3mg ceftiofur kg/bw,  (1ml Eficur/ 16kg bw ) daily for 3 days by intramuscular injection.
Correct administration:
Shake bottle well.
Do not give intravenously.
No more than 10mls of Eficur to be given in each injection site in swine.
Withholding period:
It is an offence for users of this product to cause resisdues exceeding the relevant MRL in the New Zealand food Standards.
Cattle: Meat 2 days
Milk: 12 hours
Not for use in Bobby calves
Swine: Meat 2 days
Special instructions:
Store at or below 25 °c do not freeze or refrigerate. Protect from light.
After opening the bottle discard after 28 days.
RESTRICTED VETERINARY MEDICINE
Register pursuant to the ACVM Act 1997. No A10691
For more information about this product please visit www.hipra.com
Eficur is available direct through your local vet.
For any questions please call your Agilis rep on 0800 agilis.